The Sandbox is a decentralized, community driven platform. Creators can make voxel assets, gaming experiences and monetize them on the blockchain.
We're leveraging our 7 years of experience in UGC and existing franchise The Sandbox which has over 40M installs. It is a 2D single player mobile game where users can use over 500 elements to make worlds and games — 70M have been created in total and we have 1M MAUs.
The Sandbox features 3 main components: a 3D Voxel Editor (NFT builder), a Marketplace and the Game Maker.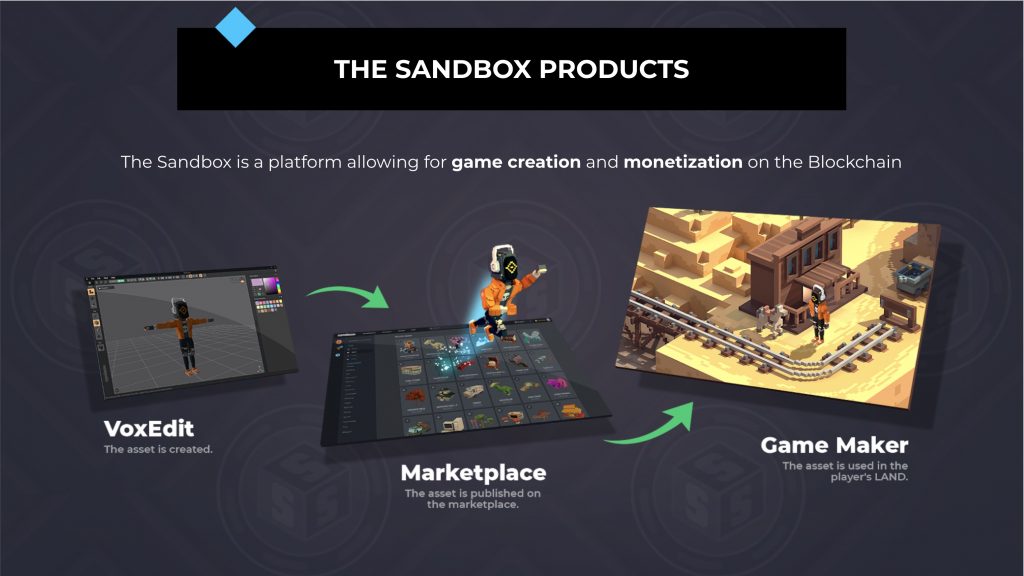 The Sandbox's vision is to offer a metaverse where virtual worlds and games will be created collaboratively without central authority. Because game ASSETS are blockchain-backed digital assets, tokenized as NFTs that are tradeable on a free and open decentralized marketplace, players can enjoy permissionless transfer of their assets from one game to another, retaining digital scarcity, security, and authenticity. The Sandbox offers rich, easy to create voxel worlds and game experiences and the ability to safely store, trade, and monetize creations through blockchain, allowing creators to benefit from their creations.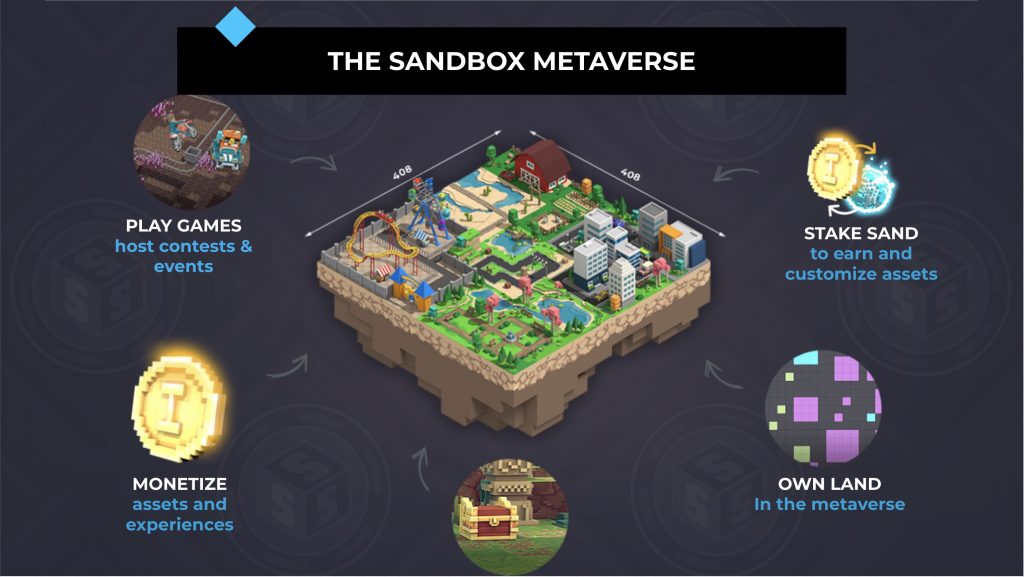 Our mission is to offer more value to gamers and collectors through true digital ownership.
Anything you create in Minecraft or Roblox is actually NOT truly yours. You can't move it out or even monetise it the way you like. And what if these games shut down one day, like many games in the past. What will happen to your creations?
We want to disrupt these centralised walled gardens by enabling true ownership of the creations which can be taken and used outside of the platform.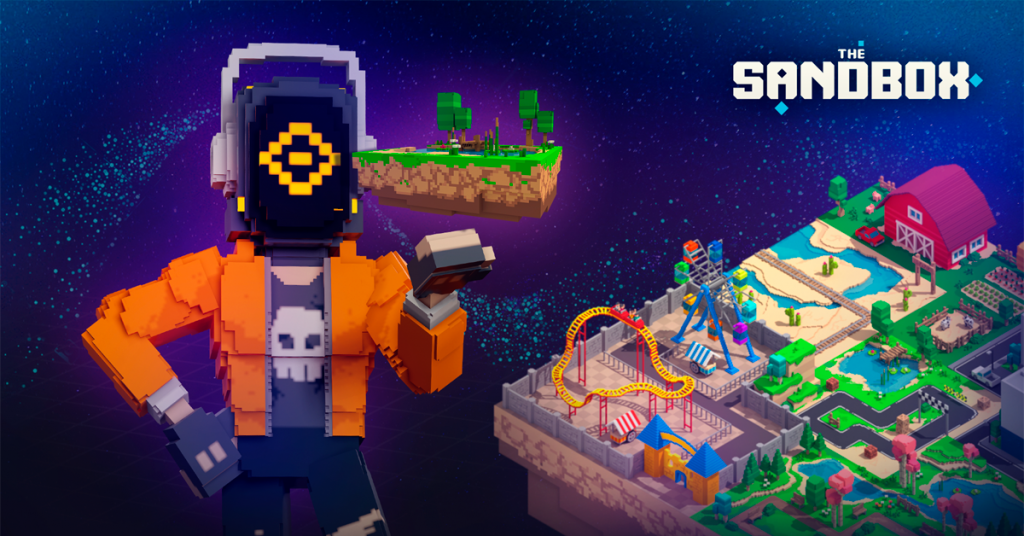 Our vision of UGC in the future is to provide an ecosystem where the interests are aligned
between all the users who are contributing to it, players, creators, artists, land owners, curators, etc. In short, we enable players to Play, Create, Own items and Lands or Explore them and Earn SAND.
As pioneers and early adopters in the space of gaming with blockchain-based assets, we believe The Sandbox's metaverse will offer a virtual playground completely made and owned by creators.
We are proud to build new experiences with amazing passionate people. We believe blockchain technology creates a new space of freedom and creation. The future of our social expression is digital, creative and fun.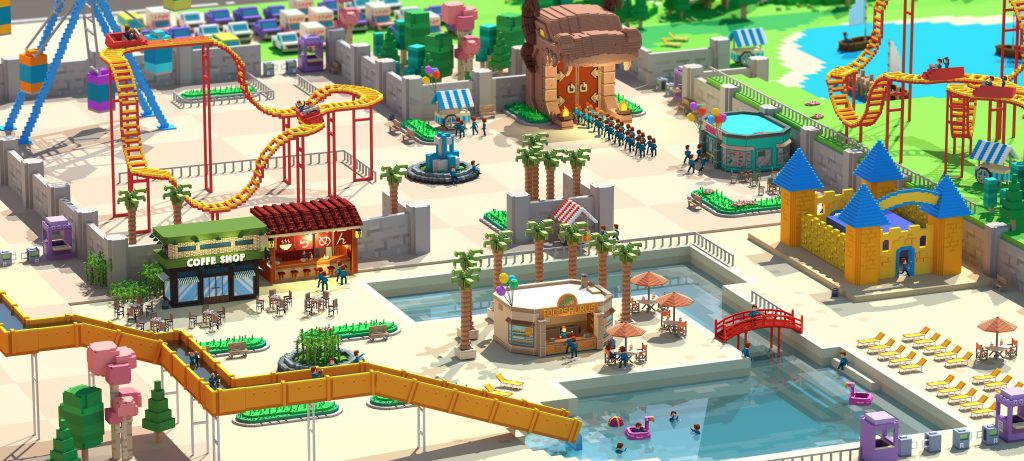 Our team of over 34 senior staff with 10+ years of experience building and maintaining game live operations with millions of players are based in Buenos Aires for the main production, Paris for Marketing and Game Design and Korea for growth.
The franchise of The Sandbox started in 2012 and from the beginning we have always taken a "Content first" approach as we believe Content will be King in the distribution and success.
Empowering Creators and Gamers means that we need to give them great tools for creating
This is why we have launched the Artists Creators Fund then the Game Makers Fun
Our Game Builder is made using Unity. Creators can use simple drag and drop level builder so that to place Entities that come with templates of behaviors, then will be able to refine in the future through visual scripting and custom coding to bring even more interactions within their game experiences
We have already a dozen creators who have started building Dioramas, the first type of game experiences available on our game builder
Soon, we will be enabling multiplayer experiences that will rely on collaborative creation and gameplay. You will be able to chat with your friends as well.
The Sandbox Metaverse consist in several types of tokens on the blockchain
⁃ SAND is our main Utility token that serves as a medium of transaction and also for Governance, Staking and more
⁃ LANDs
⁃ ASSETs
One of the key features of our gaming platform is the possibility to create an ASSET from scratch (using VoxEdit), upload it to the marketplace and then monetize it into the blockchain.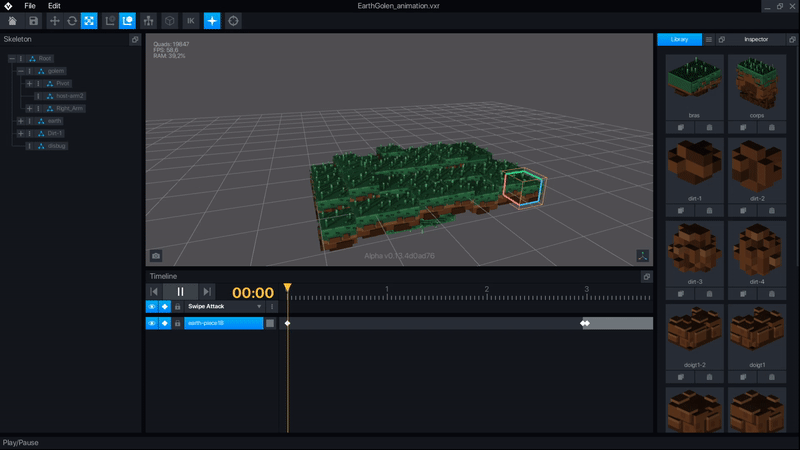 Creators will be able to upload new creations on our platform freely if they choose to, to then be minted with the use of escrowless auctions. You can learn more about it here: https://medium.com/sandbox-game/blockchain-101-blockchain-in-the-sandbox-558effdb7709
Allowing creators to share and upload their assets on the blockchain ensures greater diversity in the art styles and variety of assets available on the decentralized gaming platform.
Players will only be able to create, share and play their game experiences, they will be able to monetize them with the help of various systems that we'll describe in the future.
More information about ASSETs can be found at https://medium.com/sandbox-game/the-sandbox-tokens-assets-ec97ba2770e7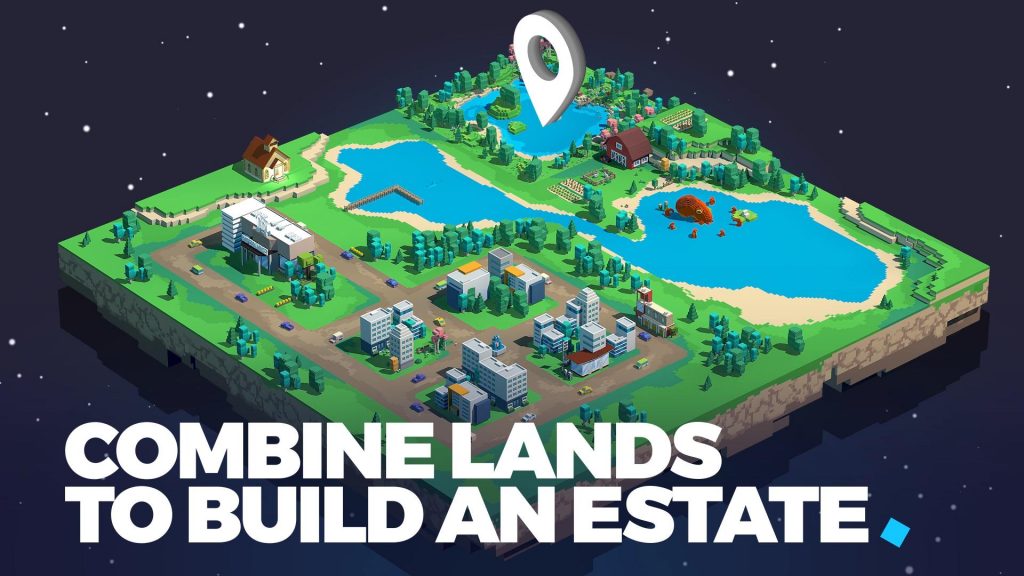 LAND is the epicenter of The Sandbox metaverse. A LAND is a digital piece of real estate in The Sandbox metaverse that players can buy to build experiences on top of. Once you own a LAND, you will be able to populate it with Games and Assets. Each LAND is a unique (non-fungible) token lying on the public Ethereum blockchain (ERC-721).
A total of 166,464 LANDS will ever be available, contained in a map that will form The Sandbox metaverse.
LANDS are sandboxes that will allow you to:
Secure desirable locations from the finite amount of LAND in The Sandbox
Participate in gameplay in The Sandbox
Host games or experiences on your LAND
Monetize your investment by hosting gameplay or renting the LAND
Organize contests and events on your LAND
Participate in metaverse governance
Two different parcel types are available on The Sandbox map:
LAND: The basic sandbox unit on the map. Each LAND comprises 96×96 meters in the game world — just big enough to enable all types of blockchain game experiences

ESTATE: An ESTATE is the combination of multiple LANDS.
Your LAND is indisputably yours forever unless you choose to sell it or give it away. Owning LAND lets you be among the first to offer a gaming experience in The Sandbox and it's always better to be a first-mover before the platform gets crowded with competing experiences. The first builders have a chance to create defining experiences on a new platform — the first arcade game, the first puzzle adventure, etc.
But most importantly, it is via your LAND that you can build, create, and own your gaming world! More information about LANDs can be found at https://medium.com/sandbox-game/the-sandbox-tokens-lands-730b36217070
Earlier this month (December 2019), we have launched our first round of LAND presale representing 2.5% of the game map. The 3.096 available presale LANDS (including those from our partners) were bought by users in about 4 hours, with 2.123 LAND parcels sold within the first hour alone! Hundreds of users participated in our LAND presale and are now owners of a piece of the Sandbox metaverse. It is a great success!
https://medium.com/sandbox-game/the-sandbox-land-presale-round-1-is-sold-out-11b3ceb97e4a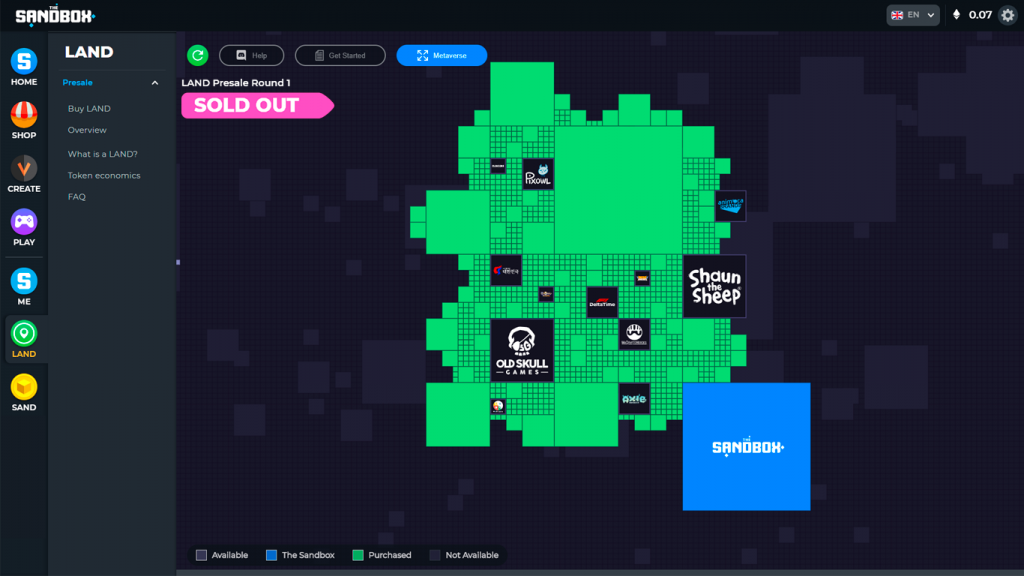 We have successfully delivered each key component on our Roadmap so far:
In December 2018, we have launched the first alpha version of our 3D voxel editor "VoxEdit" which has been downloaded over 60,000 times to daet and over 100 artists use it already. They made over 3,000 assets. We release regular updates, working with the Artists community
Last October, we launched the first version of the marketplace which is a website where the models made with VoxEdit can be tokenised as NFTs to be traded between players. Initially users can begin creating an account and a crypto-wallet there. We have already onboarded thousands of new users to be ready to use blockchain technology, without them knowing about it. Next year we will open the users trading features on the marketing
Our objectives for 2020 are:
Launch of the Game Builder Alpha version in 2020, as a very casual and accessible tool where users can just drag and drop entities into their LAND to see them already start moving on their own using predefined behaviors templates
An update around July 2020 with visual scripting for more customization and a release enabling custom coding by the end of next year
Adding new Game Modes Creations
Vision around the Avatar and multiplayer co-building with your friends inside your LAND
Our vision for the next 10 years is to become a leading sandbox game with 1M then 10M then 100M of users, who are enjoying the benefits of Blockchain without necessarily knowing about it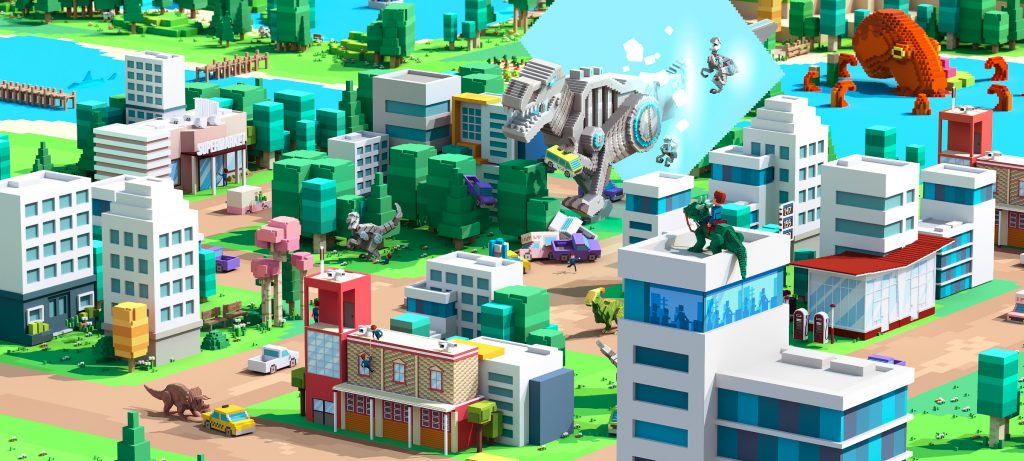 We really encourage everyone to look out for the project next Milestones, especially the launch of our Game Builder and our SAND tokens in 2020 and be among the first to join the Metaverse!
Become part of our community to always be in the loop! Join the talk on one of our channels: