Browsing through an online world securely has become more difficult over the last few years.
Having in mind the persistence and intricacy of the recent hacking attempts, it seems like things are bound to only get worse. Regardless of the growing number of advanced hacking attempts, the methods to combat them are evolving swiftly as well. In effect, nearly impenetrable technology known as Blockchain has already planted its roots deeply in cybersecurity and has helped prevent vicious cyber-attacks across industries.
What is a Blockchain?
In simple words, blockchain is a distributed network that has millions of users across the globe. Each user can input any type of data in the blockchain, and being powered by a cryptographic function allows these data to become immutable and permanent. All other participants of the network then validate that the data being added in the blockchain is real. The participants validate the accuracy of the data being submitted by using a three keys framework (Private, Public, and Receiver's key) which also allows them to verify who the data is coming from.
Having so-called "decentralized" nature puts blockchain at the forefront of cybersecurity improvements. Let's see how blockchain can combat different types of security vulnerabilities.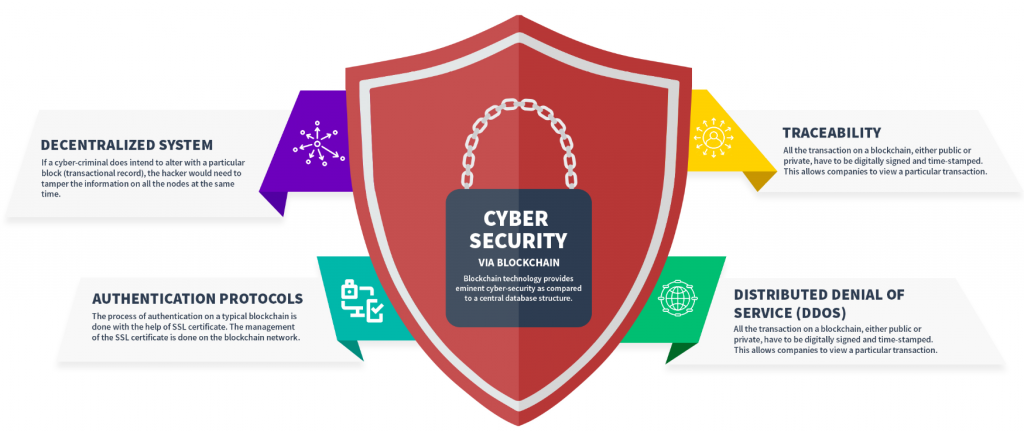 Highly Secure Private Messaging
Enterprises usually handle confidential data security in-house, and that's why it's essential to bring the security of emails, messaging, chats, or any other type of data between employees to the highest level. In addition, a lot of sensitive client data is normally collected during the business operation, and often these are the most vulnerable.
Today end-to-end encryption used by the majority of messaging ecosystems can't ensure total security. All that can improve by implementing blockchain technology. The solution facilitates unified communication between various messaging platforms, securing all info exchanges.
PKI Solution with Blockchain
Public Key Infrastructure encrypts messaging apps and other methods of communication nowadays. The big drawback of PKI utilized in the applications is that they rely on third-party certificate authorities, which are an easy target for cybercriminals.
Therefore, malicious intruders can penetrate into the system capitalizing on false identities pretending to be a person in charge. The system can improve by integrating blockchain solutions. Storing and publishing the keys on the blockchain, you make the app impenetrable to attacks and eliminate the risk of verifying false key generation for compromising data.
Decentralized DNS
Current DNS is an ideal candidate for implementing Blockchain technology as it comes with various drawbacks. DNS is an easy target for cybercriminals to intrude and deploy severe attacks on the connection between the site DNS and IP address. Hackers can bind DNS with DDoS attacks to bring down the servers for a substantial period of time.
Blockchain technology, once implemented, will decentralize the whole DNS system thereby rendering the raid for single, vulnerable entity much more complex hackers-wise. In such a way, a distributed ledger is used for storing the domain information. Plus, sustained smart contracts created will power all the connections.
IoT Security
IoT technology widens possibilities and makes life easier. Meanwhile, it makes your routers, switches, security cameras, doorbells, and other smart devices vulnerable. Hackers can get access to the systems by depleting weaknesses in firmware.
The integration of blockchain can decentralize the authority making devices "smart" enough to lock down any suspicious nodes without asking a central authority. Besides, the exchange of data between IoT devices will be secure too. No central authority means staging an attack harder, or maybe even impossible.
Protection against DDoS attacks
A Distributed Denial-of-Service (DDoS) attack is the worst-case scenario for companies worldwide. DDoS encompasses temporary service shutdown, user inability to access service, and most devastatingly, compromising of online data.
Paradoxically, the biggest problem in protection against DDoS attacks is the aforementioned DNS. Cybercriminals can attack numerous websites one after another by targeting the centralized aspects of DNS. Integrating blockchain technology can solve the problem and reduce and eliminate the risks of fraud and attacks. Decentralizing all the systems makes them harder to target.
Is Blockchain the answer to cybersecurity?
Nowadays, blockchain technology promises better security. It expects to reduce your vulnerability and decrease a vast number of successful cyber-attacks in the near future. The highlight of the solution is decentralization, the key factor in cybersecurity.
Certainly, with improved security, comes more sophisticated hackers and their skills. Anyway, the implementation of blockchain into your safety and security systems makes the task far harder for cyber-criminals and fraudsters to exploit.
Bio: Nena has a wealth of experience in Blockchain, Engineering ,Program Management attained at Apple, Cisco, consulting agencies and startups. As a Strategic Blockchain advisor, she is able to share best practices and lessons learned to ensure that the clients achieve their blockchain goals. She has help Fintech, Banking, Supply Chain, Gaming, AI, IoT enterprises and startups design and develop end-to-end Blockchain SW solutions, in order to add new revenue streams and business models, improve system performance and transaction speeds, reduce risks and enhance security, increase scalability, optimize costs and improve processes.