The Function Coin project evolved from FunTimeCoin, it has been continued by a dedicated team well known in the masternode world.
Now what is a crypto based EuroMillions syndicate?
The Function team plays the 2 draws every week from EuroMillions, Europe's largest lottery with a minimal jackpot from 17,000,000€ (http://www.euromillions.eu/).
Every masternode holder or shared masternode holder receives his share from the profits payed out in DOGE or BTC.
- No need to pay your contribution for every draw.
- You will have no risk of forgetting to participate, we do it for you.
- Playing with a syndicate allows you to play bigger, the bigger we play the higher your chances to win a jackpot.
This coin is for everyone, no need to have crypto knowledge!
Holding a masternode was never before so much fun. No need to sell rewards or follow the price and get in stress because of these factors.
Just hold your node(s) and wait for the next win.
Will we only stick with the lottery?
NO… we will evolve and look into different usecases to maintain the value of the coin and to have a prosperous future for all the investors.
We are open to all usecases or suggestions as long as the community has benefits from it.
Our community is the most important external factor for us, we organise a lot of community votings when certain topics need to be discussed or voted for.
Core decisions will be made by the team that leads the project.
At this point we have already 2 additional features for Function Coin:
- Payment system for www.vaultwatch.eu listing fee
- Payment system for Simplepospool.com listing fee
A little about our current main partners
SimplesPosPool is one of the largest and oldest staking pool around, started out as a service amongst friends and now a leading player amongst shared masternode services and cold node hosting services, one of the most affordable ones at this moment (SMN service).
VaultWatch is a relative new and upcoming crypto tracking platform that differentiates itself from others by adding unique features for both the coin project and for the investor, they intend to bring all needed info from a coin into one platform to make it easy to find the information you are looking for. Best feature, they are extremely affordable.
Other than that Function Coin is also socially engaged with other crypto projects in the form of long lasting and mutual beneficial partnerships.
These partnerships contain the fact that the selected coin projects receive a share equal to one masternode from winnings from EuroMillions. With those winnings the Function Coin team will place buy orders to support the market. Bought coins will return to the partner project or will be sent to a burn address. At the moment of writing we started out with the first project named ESBC.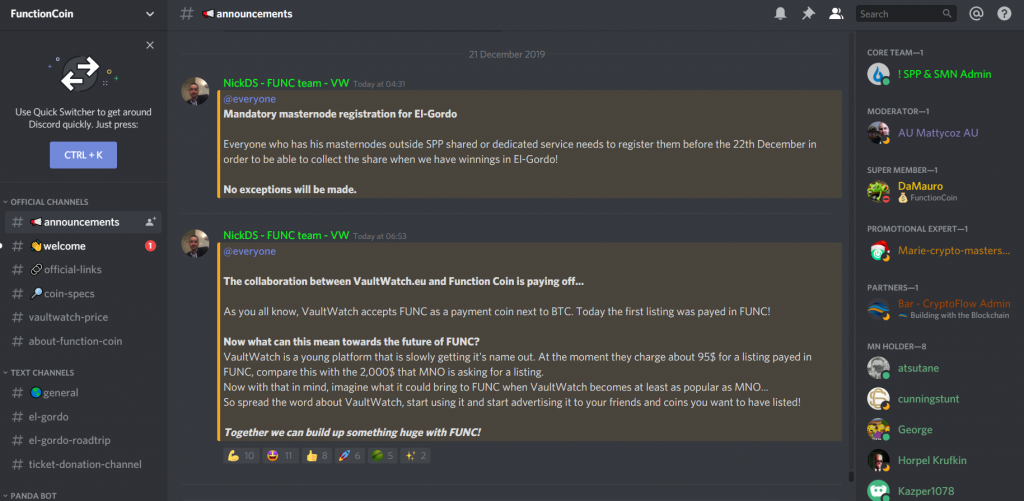 So, this was a brief introduction from Function Coin.
When you are interested in finding out more about Function Coin project, come over to our Discord, we are always ready to answer your question or assist when needed.
Join our big happy family and enjoy a masternode again like back in the days.
Discord - https://discord.gg/7YmW9Td
Crex24 - https://crex24.com/exchange/FUNC-BTC
GitHub - https://github.com/Function-Coin
VaultWatch - https://www.vaultwatch.eu/detail.php?coin=func
Twitter - https://twitter.com/CoinFunction
SimplePosPool - https://simplepospool.com/