Successfully managing the community and marketing are surely some of the most important parts of owning a coin, and can add a lot of drive to the development.
Community members deserve to be rewarded for performing marketing tasks or services done, and while conventional coin wallets perform this tasks, the community is often tightly bound around Discord server of the coin, and it often means a great deal to show people that the bounty was paid right there on the spot. Maybe you would like to perform airdrops as well as pay bounties to your users, or even have a staking pool? Enable your users to tip one another for services or advice? Couple this with the need for many people to have a web wallet - e.g. they do not have a desktop computer – and what you need is a Discord tipping bot, a tipbot for short.
 Displaying balance for a non-staking and staking bot 
Sapphire Bots specializes in Discord bots, primarily tipbots, although all kinds of bots can be made available upon commission. Some of the great bots to engage your community and streamline your work are:
Tip/stake bots to animate your community, perform tips, rains, soaks, and even lottery, and have a staking pool
Swap bot to make the often tedious process of swapping coin from old to new blockchain much easier and secure for the coin owner
Address airdrop bot with auto on-chain payout to stimulate your users to download and start using the wallet
Sapphire Bots is trusted by some of the most prominent names in crypto industry, such as Komodo, VerusCoin and Pirate, at the bleeding edge of crypto innovation.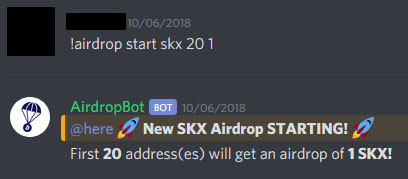 Address airdrop bot, starting and finishing a round
All bots have been designed with ease of use in mind, so the commands are as concise and easy to remember as possible. Every bot has a verbose help page with examples, which can assist users should they require assistance.
All bots are coded robustly, well-tested, and hosted on dedicated servers with established layers of security and disaster recovery procedures. In case of an emergency, restore procedures are initiated as soon as possible. The staff is constantly monitoring and prepared for the unpredictable.
TipBot / StakeBot
The tipbot is hands down the simplest way to have a web wallet, animate your Discord community, and have a staking pool for staking coins! Sapphire Bots tip/stake bot supports BTC-based coins with transparent addresses, as well as ZEC-based z-transactions-only coins.
Some of the coins Sapphire Bots tip/stake bot is trusted by include:
Komodo (KMD), VerusCoin (VRSC), Pirate (ARRR), ChainZilla (ZILLA), BitBean (BITB), Condensate (RAIN).
Tipping another user with all available user's coins
• As with every web wallet, deposits and withdraws are the most basic features, but while so, minimum deposit confirmation times can be configured to your liking.
• The bot communicates with the users using a configurable prefix and alias.
• All transactions are fully auditable for maximum transparency.
• A price poller has been inbuilt to display your holdings in USD equivalent amounts as well.
• A plethora of highly configurable options will help you tailor the tipbot to your specific needs.
• For the privacy-conscious, privacy mode can be enabled by default, effectively responding to all user queries regarding balance, addresses and withdraws in Direct Messages.
• Many commands are also accessible in DM's regardless of privacy mode.
• Features have been designed to make the user experience straightforward and enjoyable.


Withdrawing coin and checking balance in privacy mode
Integrated staking pool
Staking coins can make use of a robust integrated staking pool, giving users a chance to earn even if they hold only a modest amount. Users are free to unstake their coins at any time, and stake them again if they so desire. An advanced algorithm takes care to maximize user ROI.
A detailed 30-day staking report with average values is also available to users once a day. Aggregated stake notifications (max 1 per hour) are sent to the channel of your choosing.

Staking pool notification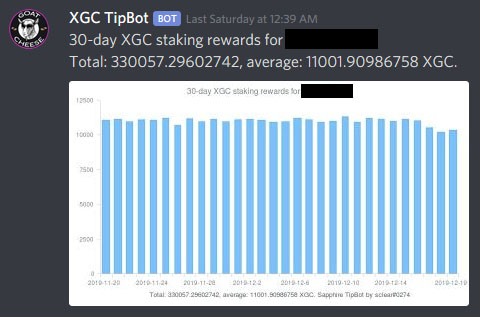 30-day staking report for user
Last but not the least, have fun with your users!
• Tip users for fun or services done, publicly or privately
• Rain to active users, with activity settings (configurable activity time within channels of your choice)
• Soak active/inactive users
• Thunder (tips random active users)
• A faucet is also inbuilt into the bot and turned on upon request
• Configurable and automatable autorains and autosoaks that will rain to users active in selected channels
• Invite the bot to other servers of your choosing!
Raining VerusCoin to all online users

Thunder (tipping a random lucky user)
Contact Sapphire Bots
Web: https://sapphirebots.website
Discord: https://discord.gg/bqsfSaU or DM sclear#0274 (ID 401562879494717452)
Twitter: https://twitter.com/theclears