We are an integrated
distributed ledgers platform
. Technically speaking, a directional acyclic graph assembled from blockchains created by users.
Simply speaking, the next evolution of blockchain technology.
Our main feature: users can create blockchains with various types of consensus - including private or open ones, while still having all the registries fully integrated among themselves (common address space, mempool, transactions, smart contracts, etc).
For the first time, the consensus logic of a distributed ledger is divided into two layers - an application layer that allows users to create their own distributed ledgers to solve specific problems, and a network layer that provides network integrity. 
You can ensure the uniqueness of our technology by visiting our Github and having a browse.
This is a fully in-house development, no forks or deviations etc. After just over 1 year of development we already have a working ecosystem with ~13 000 active wallets, 3 consiliums and 26 witnesses (With > 10 additional expected to join in a matter of days) so far.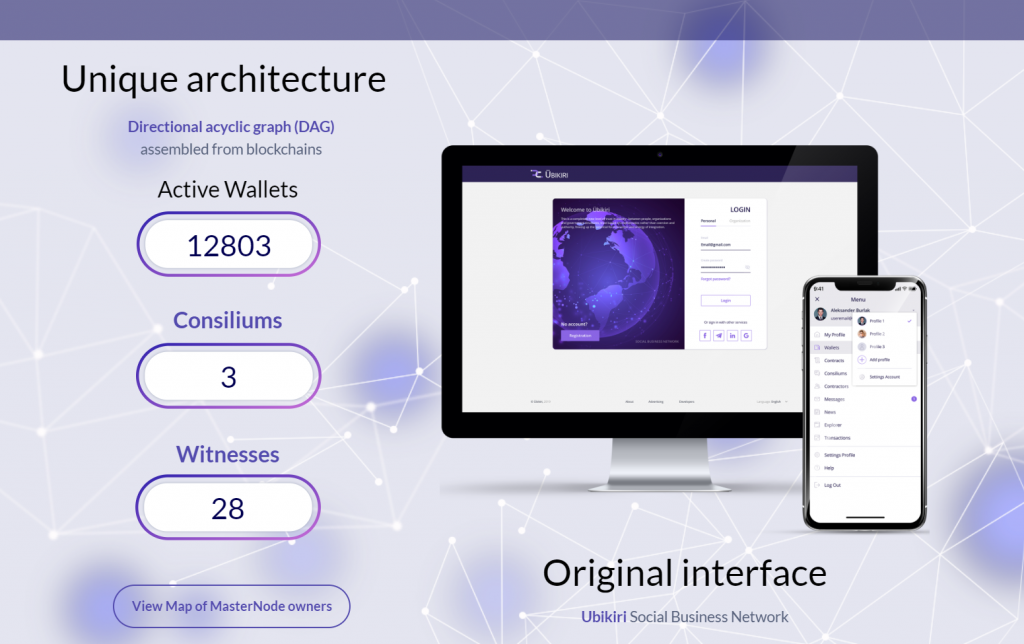 As an interface for our IDL, we developed a social network. Usually only a wallet is needed, but we decided to make something much larger. Something along the lines of the business social network for the next generation.
Of course, this is built upon microservices. It is integrated via API with the following services:
SilentNotary - An evidence providing service that notarizes user data via distributed IDL registries and the Ethereum blockchain.

Crowdfeeding - A b2b financial and HR service for GIG-projects, organizing the attraction of gig workers and payment distribution.

Cryptonomica - a user identification service used to identify PGP keys. 
This allows our users to access all of these affiliate services without leaving our social network. Everything works perfectly, with our desktop version now live (Ubikiri.com) and mobile applications in development.
Of course, you may say - "This all sounds nice guys, a lot of technical jargon, but what is the real use? What is all this actually for?". A bit of a rude question, you know. But no offence is taken, we have an answer!
Public blockchains are useless for real business: there is no legal regulation of relations between node holders and the development team, you need to use cryptocurrencies with an incomprehensible status. Therefore, big business currently prefers to use private blockchains (hyperledger, corda, masterchain, etc). 
But they do not carry any new properties: they are just standard distributed databases, their integration with external networks only occurs through trusted gateways.
Our system solves these problems. In a single network on our IDL, there are completely integrated blockchains of various types and classes: public, private, with various consensus algorithms. For cryptocurrency operations, you can use public blockchains, for corporate decisions - private ones.
Most importantly, private corporate blockchains are now fully integrated with each other. No need to build any gateways, just give your new partner a key for decryption. Now private blockchains can be used to build trust between companies, removing unnecessary intermediaries.
We see the future of IDL as a universally recognized decentralized protocol linking the business processes of companies around the world into a single trusted structure that is organically integrated into existing legal systems. 
Additionally, an important note: We do not need special legal adoption, we can work within the framework of existing legal regulation around the world.
Considering short-term goals. We are launching now an online battle for training traders with virtual money, with the help of real exchange rates and with the opportunity to win real money. Our new partners from https://t.me/AlphaTradeZone will be responsible for attracting traders for the game, and we will provide all the technical coverage through Ubikiri.
We will add elements of gamification to it to encourage more active involvement, as well as a competitive element to drive and motivate the participants. This will make not only participation, but also following the game much more exciting.
But it's just the first part of our intentions regarding that. Our next step — a product that solves one of the key problems for a trader — the problem of proving its success story. We offer a solution to this problem — recording trader's operations in our blockchain.
Because due to this, it is impossible to change the history of operations. By passing the key to the client, the client can turn to our blockchain and get the history of the operations of the professional participant which is objective in nature.
Finally, we will create a service that allows the user to acquire information about the trader's transactions or trading signals online. The user can quite easily choose a trader by efficiency, looking at the public part of the history of its operations.
All these things will significantly contribute to the popularization of our platform and our cryptocurrency, LAW. But this is only just the beginning.
P.S. If you wish, you can join us now in the early stage of our world conquest (we love to set ourselves easy goals). Our IEO is coming within month, and as such are now in our Presale stage - https://idledgers.com/#presale.

See you there!