Launched in mid-2018, it lets anyone create an Ethereum compatible token on the MintMe blockchain, set the token price and release schedule, and sell their token on the MintMe exchange, all for free. Creators can set up their project describing the purpose and offer services while the token can be bought and sold like any other exchange. The ERC20/ERC223 smart contract compliant tokens can also be deployed to the MintMe blockchain and are denominated in MintMe coins. Each creator documents their token purpose with as much detail as they wish to include with accompanying links and an optional airdrop. 
MintMe is deployed on its own blockchain secured with a PoW custom lyra2 algorithm named  lyra2-webchain which is ASIC resistant and designed to work on any low-end CPU. There is also an unofficial GPU miner available through the Discord community. The block time is 10 seconds with a current mining reward of approximately 5 coins which is gradually reduced each 100,000 block period called an era. The total coin supply is approximately 564 million. The project did not start as an ICO but as a self-funded project with a premine of 350 million coins controlled by the project team. The entire premine is being held in reserve by the project to be used as they see fit to benefit the project and eventually reward the team. The development team is very active in releasing new functions and patches every 1-2 months. The team offers an official miner, wallet, explorer, and pool.
MintMe has a full function exchange supporting the purchase and trading of Bitcoin, Ethereum, and USD coins along with MintMe and associated tokens. There are over 20,000 registered users and almost 6,000 tokens deployed on the exchange. In addition to the MintMe exchange, STEX also lists this coin. MintMe was originally called Webchain and the name change occurred in 2019 with the development of the MintMe exchange.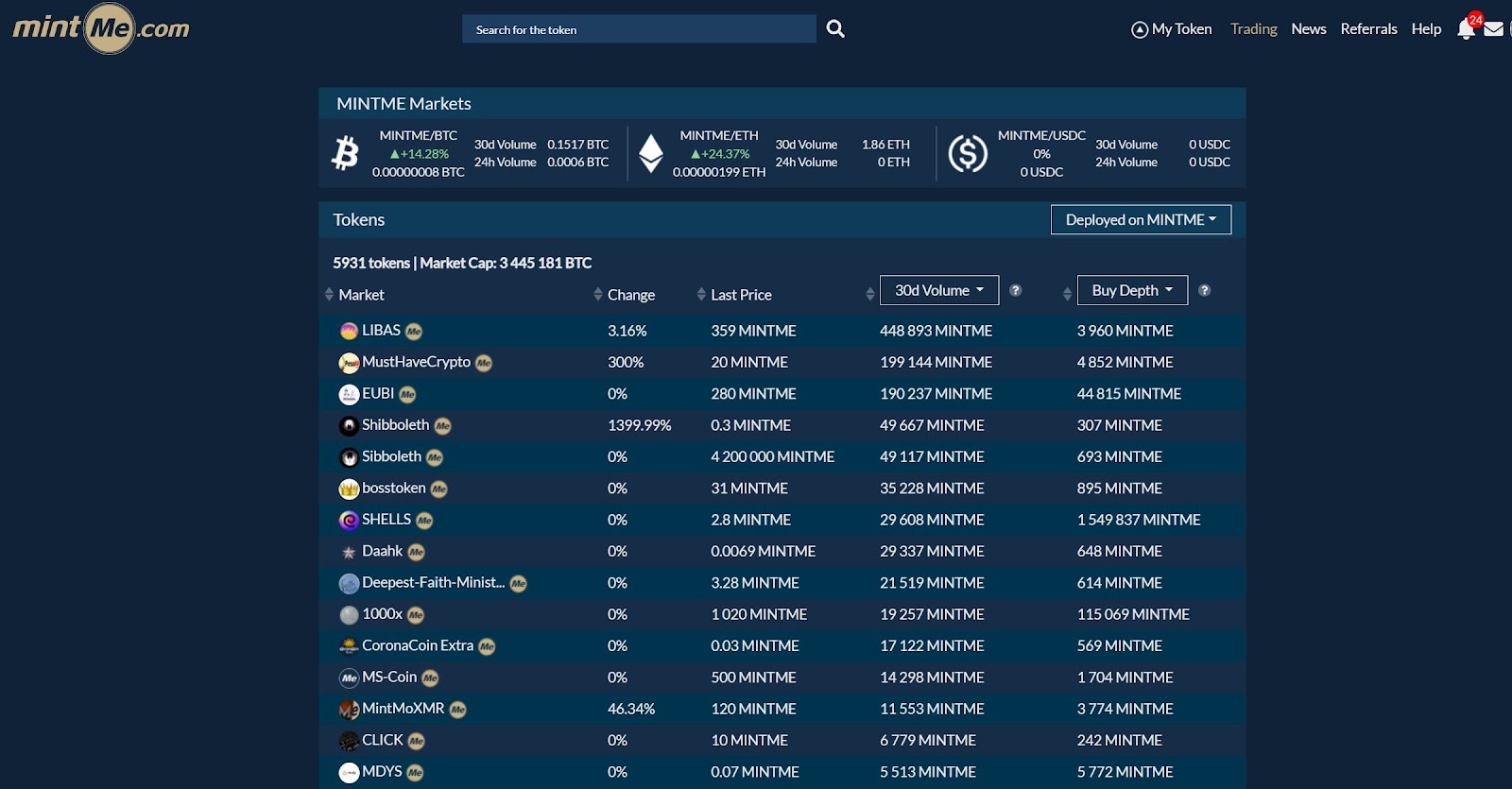 CoinIMP is also a project managed by the MintMe team and is where the majority of the MintMe coins are mined. It offers a web embedded miner for MintMe and Monero for web content publishers who can earn MintMe coins as readers access their web content. Currently, about 88% of MintMe coins are mined through CoinIMP. The project team also operates the largest mining pool although they have provided instructions and help for anyone who would like to create a MintMe mining pool.
MintMe is an active and mature project with great potential that is well supported by the community and the development team. They provide a tool for people to help realize their creative goals and be compensated for their work. They solicit input from the community and many enhancements come directly from this open communication. It is a diamond in the rough that is continuously being polished and is an excellent opportunity for a pure crypto investor or a creator. It gives anyone with a great idea the opportunity to create a token of value and offer services in exchange. This is very unique in the crypto world.  To learn more about this project or join in the conversation you can follow these links:
Exchange: https://www.mintme.com/
GitHub: https://github.com/mintme-com